HOME >
About TUPLS|Facilities
Facilities
The university's campus is approximately 27 hectares (67 acres) in size. Surrounded by abundant greenery, the campus includes educational and research facilities, community facilities for students, sports facilities, and more—everything a student could need.
Classroom Buildings and Research Laboratories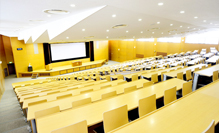 There are over 70 classrooms and lecture halls of varying sizes, for small classes to full school assemblies. Each is equipped with a projector and other equipment to enable their use for seminars, public talks, and symposia, in addition to regular classes. There are also lecture halls specifically for computer literacy education and laboratories for chemistry, biology, analysis, and pharmaceutical studies.
Pre-Clinical Pharmacy Practice Facilities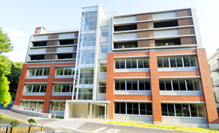 The university began offering a major in Clinical Pharmacy Studies in 1976, and set up the Master's Program in Clinical Pharmacy Studies in 1981, leading Japan as the first university in the country to offer clinical pharmacy studies at the graduate level. The School of Pharmacy has been providing high-level education for over 30 years, focusing on training clinical pharmacists. As part of this training, in the fourth year of the program, students participate in pre-clinical pharmacy practice and in the fifth year engage in clinical pharmacy practice. This program provides the opportunity for experiential learning prior to engaging in real-world clinical practice. The pre-clinical pharmacy practice facilities completed in September 2008 have a floor dedicated to practical training where students spend approximately one month training, engaging directly with patients, filling prescriptions, and learning aseptic dispensing methods. The facilities contain a model pharmacy, aseptic dispensary, mock hospital ward, and so on. These pre-clinical pharmacy practice facilities are exceptional in both quality and range.
The Information Center and Library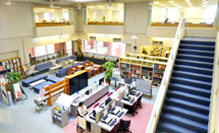 The center's book collection contains 62,000 volumes in Japanese and 37,000 volumes in other languages in the fields of medicine, pharmaceutics, and the life sciences. Efforts are also being made to improve the center's electronic library functions. For example, in 2010 a complete switchover was made from print to digital for specialized foreign-published academic journals and their back issues. As a result, students now have access to 11,000 subscription-based journals linked together in a searchable information database. This measure has greatly enhanced the library's usefulness. Seating for viewing materials was also increased so that the center can now accommodate approximately 20% of the total student population at any one time.
Community Facilities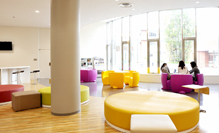 On-campus facilities to support student life include lounges, cafeterias, a convenience store, student services counter, health clinic, and counseling rooms. On-campus sports facilities include a sports ground, gymnasium, tennis courts, and a Japanese archery (kyudo) range.
Research Facilities and Equipment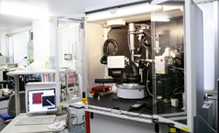 Our research facilities have several large apparatus that can be used jointly for leading-edge research in pharmaceutical science and the life sciences, including a high-resolution nuclear magnetic resonance apparatus and confocal laser scanning microscope. There is also an analysis center and radioisotope joint research laboratory operated and supervised by full-time staff to support research efforts.
The Drug Rationale Research Development Center (DRC)
In 1996 the Ministry of Education, Science and Culture (now the Ministry of Education, Culture, Sports, Science and Technology) instituted a project to strengthen and update the foundations of academic research in private universities. Tokyo University of Pharmacy and Life Sciences was chosen in the first year of this program and in May 1996 the Drug Rationale Research Development Center (DRC) was completed. The DRC is a four-story building with the latest research equipment, including a magnetically sealed room, joint research center laboratory, calibration laboratory, clean room for network servers, information processing laboratory, and meeting rooms.
Facilities for Animal Experiments
The facility for animal experiments is a two-story, freestanding reinforced concrete structure finished with brick. It meets the standards for Good Laboratory Practice (GLP). The 1,100 m2 floor area is divided into two zones—one for management of breeding and one for rearing the animals. The facility includes rooms for the management and observation of animals, washrooms, a quarantine room, low-temperature room for storing feed, and refrigerated room. The animal housing zone is further separated into zones for conventional animals and specific pathogen-free (SPF) animals. Each zone has dedicated rooms for housing and experimentation. Independent air conditioning systems allow a constant temperature and humidity to be maintained in the animal housing rooms, with light and dark conditions alternated every 12 hours. Cleanliness is monitored regularly with microbial monitoring carried out sseveral times a year. The facility is run by full-time subcontracted staff to handle the animals, and an ideal environment is maintained that is suited for breeding animals for experimentation.
Medicinal Plant Garden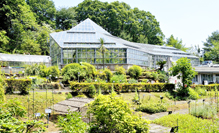 One of the largest medicinal plant gardens in Japan at just over four hectares (10 acres), this garden was created for use in pharmacological education and research. The garden consists of an open area to the east surrounded by forested hills. In the open area is a specimen garden, greenhouse, and cultivated land. Approximately 2,000 species of herbs and medicinal plants are cultivated in a semi-wild state. It is also possible to observe the endemic Asarum tamaense and approximately 500 other native plant species.