HOME >
About TUPLS|Features of the schools
Features of the schools
The School of Pharmacy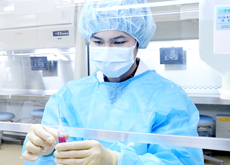 The educational philosophy of the School of Pharmacy is to provide knowledge and teach the skills needed to be a pharmacist working in the medical profession. We aim to foster broad-minded, compassionate individuals who are able to contribute to the welfare of humanity. Naturally, a pharmacist needs the correct pharmaceutical knowledge and appropriate skills. But to fulfill his or her responsibility as a medical professional the pharmacist must protect the health and life of the patient based on this foundation by providing the patient with respectful medical care. The School of Pharmacy offers practical training through a six-year curriculum that integrates courses in both Basic Pharmacy and Clinical Pharmacy. In addition, the graduate school Master's Program and equivalent level graduation thesis research help students to develop problem-solving skills and expertise as medical professionals.
The School of Life Sciences
Established as Japan's first educational institution dedicated to training and research in the life sciences, the school has consistently been a pioneer in these areas. We take an interdisciplinary approach to unlocking the knowledge held in the fundamental mysteries of life. Studies in major scientific fields are pursued insofar as they relate to living organisms. The educational philosophy of the School of Life Sciences is to foster talent in individuals who develop a broad base of specialized knowledge and learn how to apply that knowledge with exceptional problem-solving skills. Students learn to utilize a wide range of knowledge related to living organisms in order to find solutions to various issues. Studies draw upon diverse subjects in biology, chemistry, and physics, and extend to applications in the fields of molecular biology, medical science, and the environment.